Sensorium
Limits to human-centered exceptionalism
Abstract
My final semester at MIT culminated in the opportunity with the Art, Culture, and Technology program to visit Sakiya, an ecological heritage site in Palestine and design an interactive installation for its educational program. Exploring the region with scholars, artisans, and activists, I witnessed limits to human-centered exceptionalism that has led to the erasure of ecological preserves and indigenous practices.
I was inspired by the dry stone walls that weave throughout the landscape and their utility not as lifeless barriers of separation, but as ecosystems with thriving biodiversity. Using sensors to capture sound and environment data, my project reconnected us humans with the soul of the threatened architectural monuments. Through this exploration, I adapted the design framework by placing a neglected non-human user at the center, giving a voice to the wealth of life that inhabits them and rethinking our drive towards unfettered urbanization.
This project was facilitated by Professor Nida Sinnokrot and the Art, Culture, and Technology program within the School of Architecture + Planning at MIT.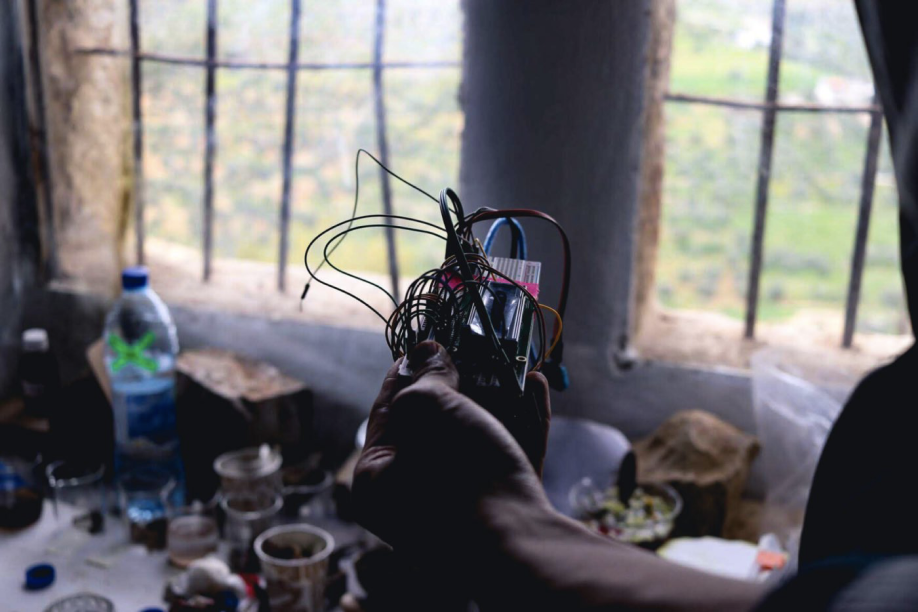 Background
Centered around Sakiya, an ecological site based in the village of Ein Qiniya, near Ramallah, Palestine, Sensorium is a transdisciplinary experiment in learning from the land and developing a field of inquiry at the intersection of art, science, and agriculture. Studying traditional ecological practices within the context of the first civilizations that developed in the region, this project explores alternative solutions for our current ecological crises around the world. As it turns out, Sakiya exists a stone's throw away from the Shuqba caves, where some of the first examples of human agriculture appeared. This region holds a wealth of artistic and civilizational knowledge about how to live, build, grow within an unforgiving climate, from Canaanite drought relief strategies to the role of climate change in the present crisis in Syria.
Dry stone walls serve as a platform to explore the ecological narratives and insights that they hold within their gaps. With a rich architectural and agricultural legacy, dry stone walls were only recently recognized by UNESCO as an Intangible Cultural Heritage of Humanity in November 2018. Dry stone walls not only provide shelter and protect the land from erosion and weather, but the spaces in between the rocks form microclimates that support a wealth of biodiversity even in dry, rugged terrains. However, as dry stone walls have become increasingly neglected and destroyed to make way for urban development, little attention has been focused on their ecological and artistic merits and their role in defining humanity's relationship with the land.
Approach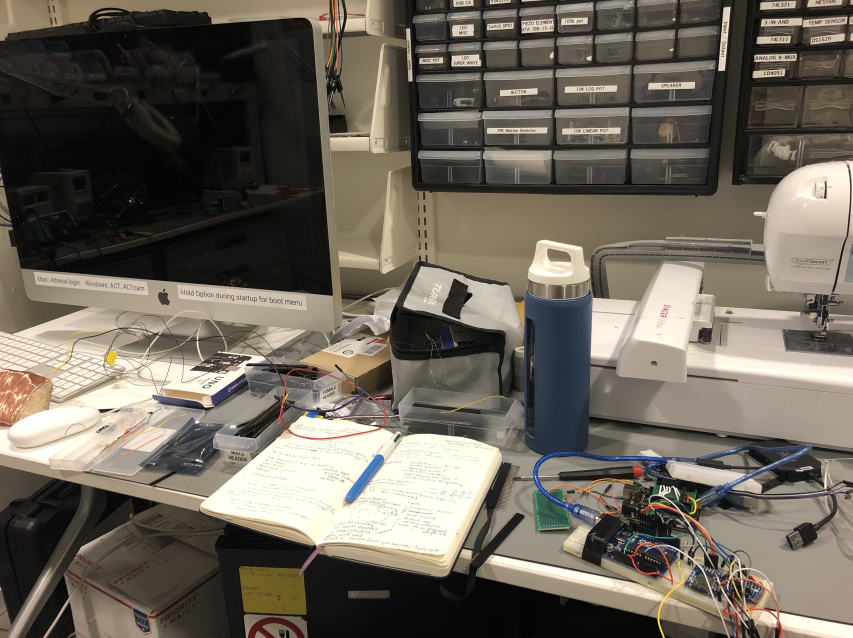 Form
A microcontroller kit encased within the cracks of dry stone walls, where the technology blends in with the natural environment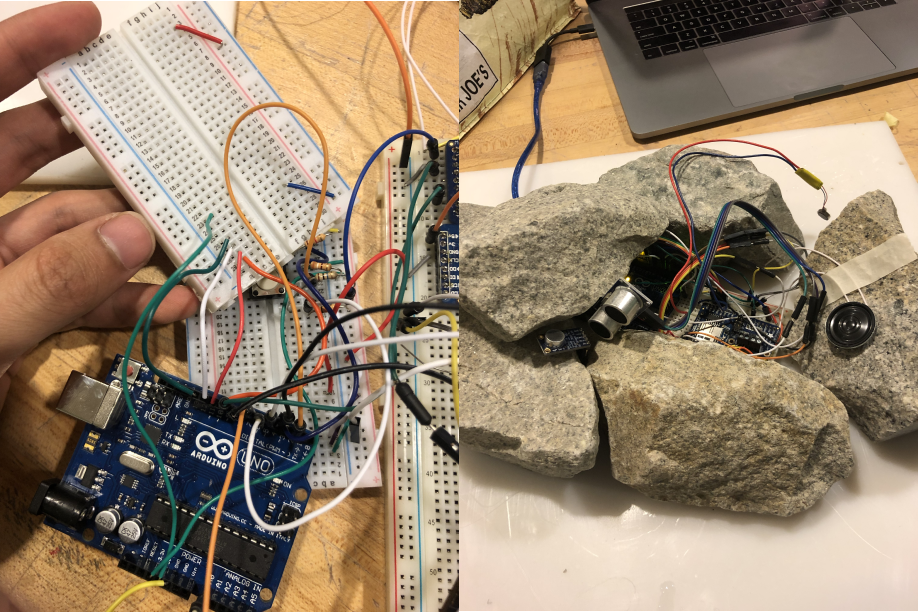 Function
Temperature and humidity sensors log local weather data deploy units around the community to crowdsource enviornmental information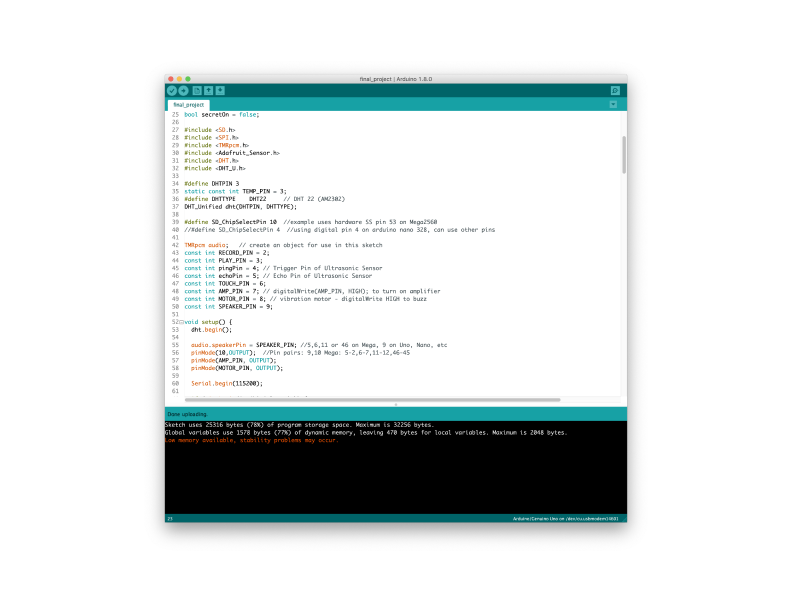 Interaction Model
[1] / Ambient noise projects out of cracks when someone approaches or passes by
[2] / Heading close to the source of sound will trigger a piece of a narrative recorded by another passer-by
[3] / Touching the copper-wrapped rock unlocks the chance to share a piece of a narrative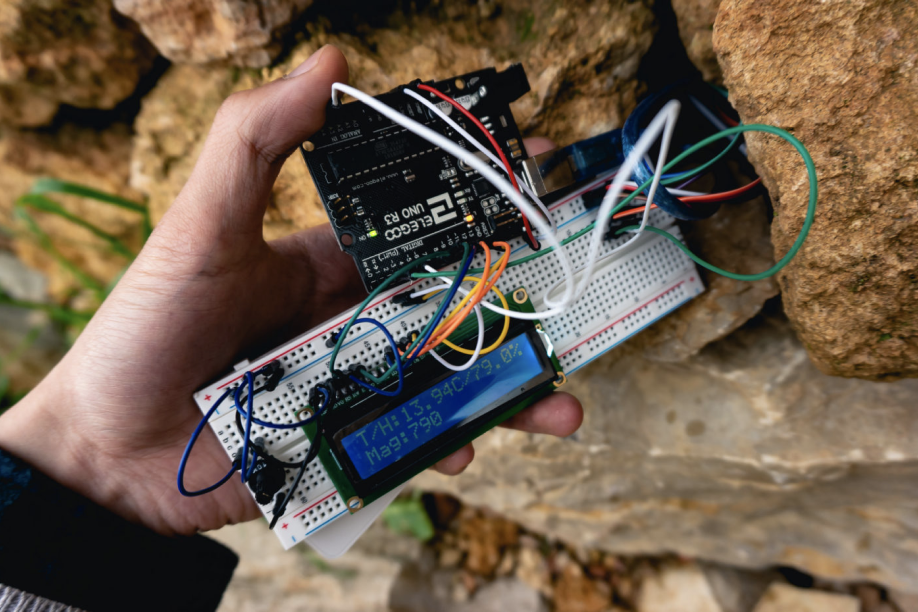 Tech
Distance sensor
Temperature/humidity sensor

SD

card and breakout board
Vibration motor
Microphone
Speaker and amplifier
Copper wire and capacitive sensing circuit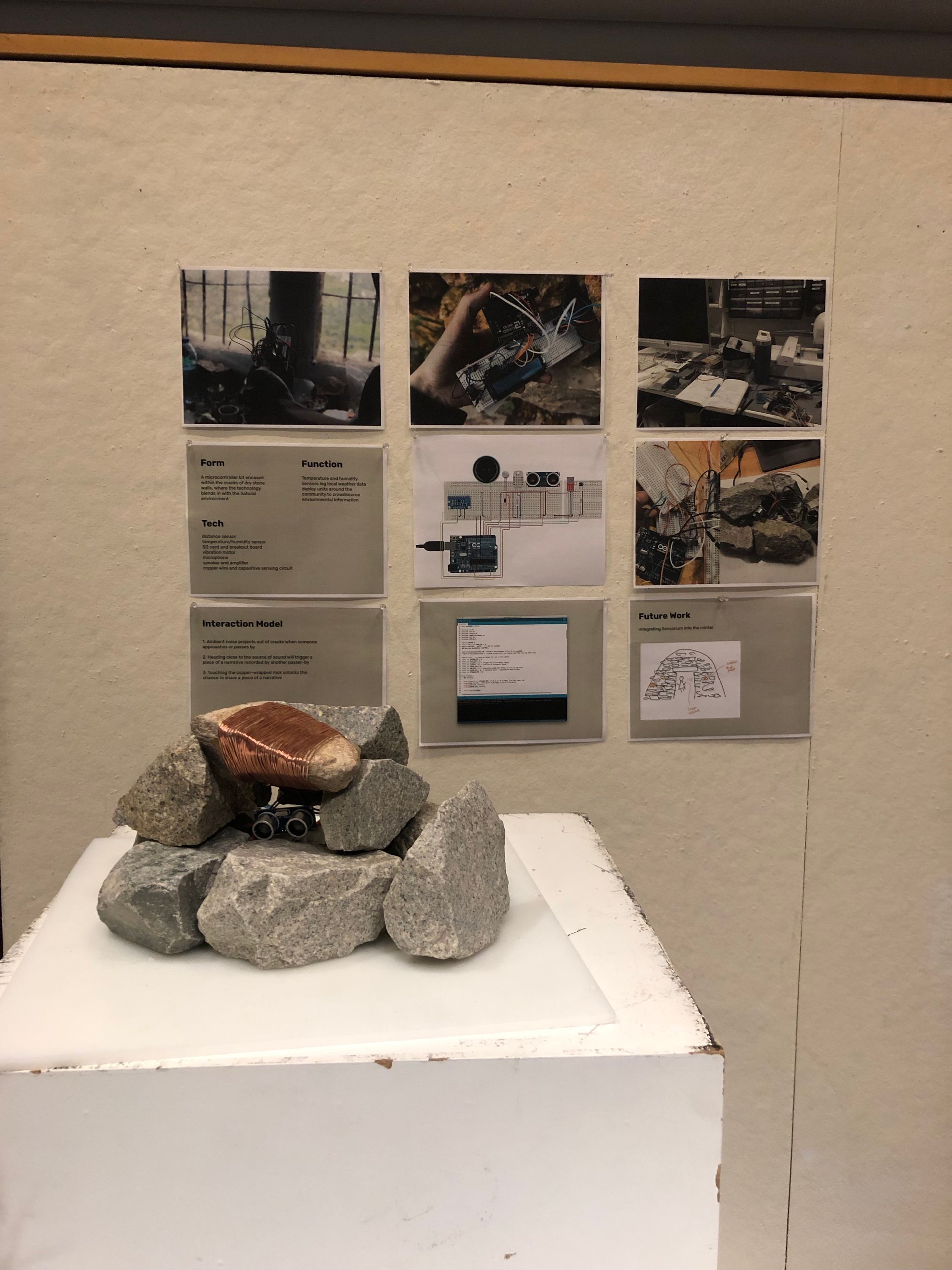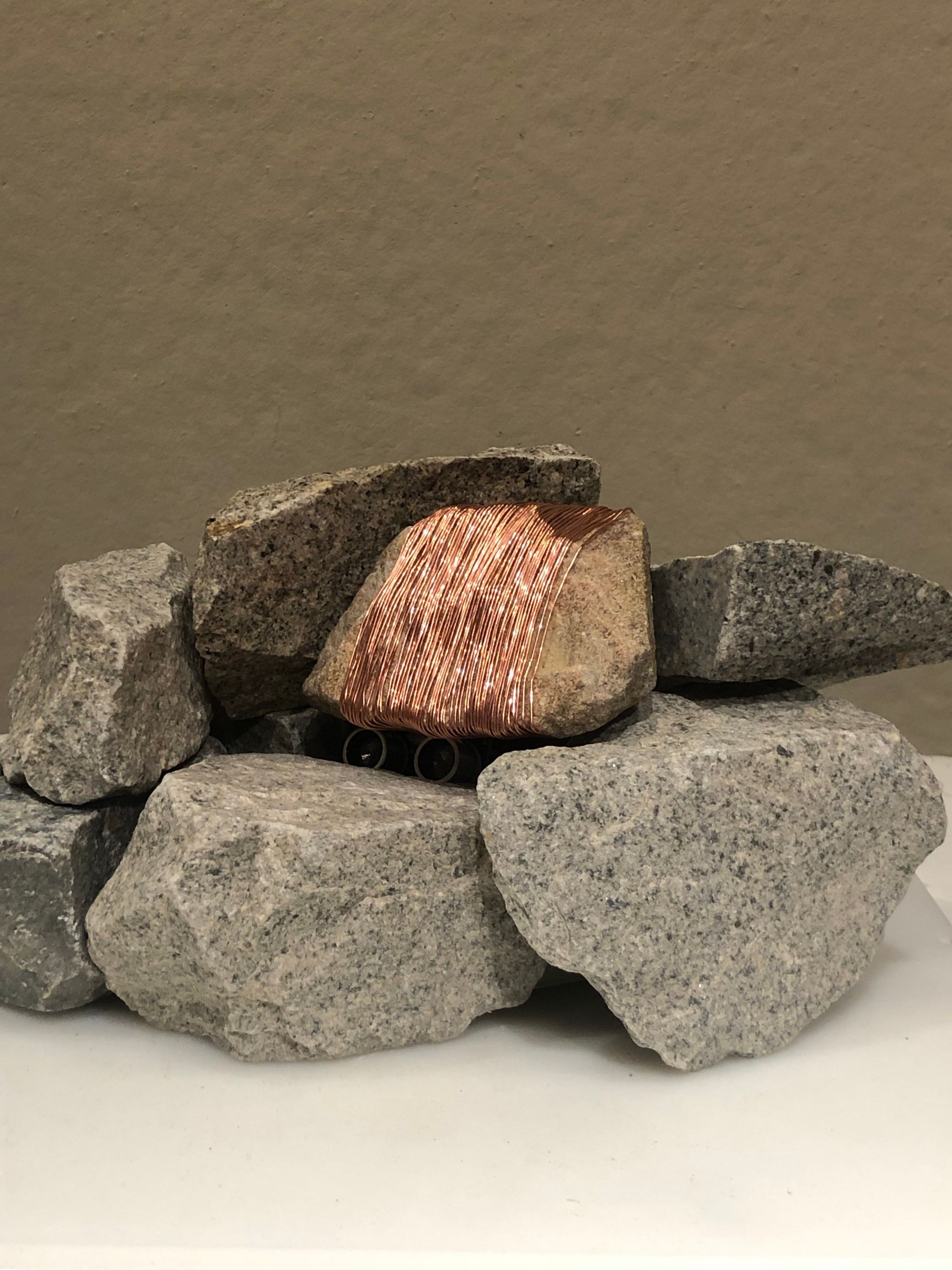 Discussion
Reflection
The copper-wrapped rock acts as a bridge between the manmade and the natural world. The harshness evokes a sense of entrapment but also an opportunity for beauty and discovery. Users are able to unwrap narratives by touch, intrigue, and engagement.
Sound bytes transmit oral narratives that are not linear or casual, but rather randomized.
Each stone is akin to a sentence that make up a broarder narrative, but individually represent a fragment of the whole.
A collection of Sensoriums can create a network of complex, intertwined narratives that connect disparate communities across borders into one cohesive, breathing unit.
Future Work
During a return visit, I plan on exploring the dry stone walls that envelop the mountainous terrain and designing an artistic intervention on site at Sakiya with sensor technologies. First, on arrival at Sakiya, I will build a sensor kit that records all types of ambient values, ranging from temperature, humidity, magnetic field, and sonic data. I will design these kits to be self-sufficient, solar-powered, and weather-proof so that they may be placed around the site at Sakiya inside various dry stone walls. I will build a simple communication system using RF 433MHz Transmitter/Receiver modules to collect and log data from each kit.
Second, I will parse the various data streams to build an artistic sonic installation within one of the main stone structures on site. One of the houses consists of vaulted ceilings with thick stone walls that have astounding acoustic properties. I will place speakers and a low-frequency transducer at key locations to amplify the sounds within the room, and add distance and weight sensors to trigger different responses at various interaction points. In this way, I hope to bring in the local community to interact with the installation and rethink their relationship with the land through the sounds of life and other sensorial data amplified by the dry stone walls. Ultimately, this project aims to bring awareness and a sense of urgency to the destruction of the local ecology not only in the area but around the world.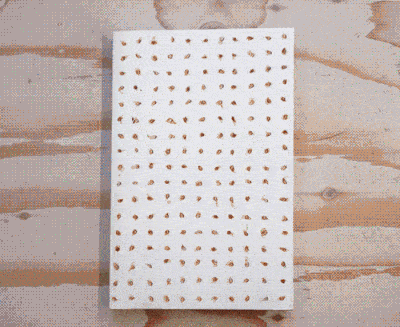 ---
---
---