What's in a name?
An opportunity to form community and forge a sense of belonging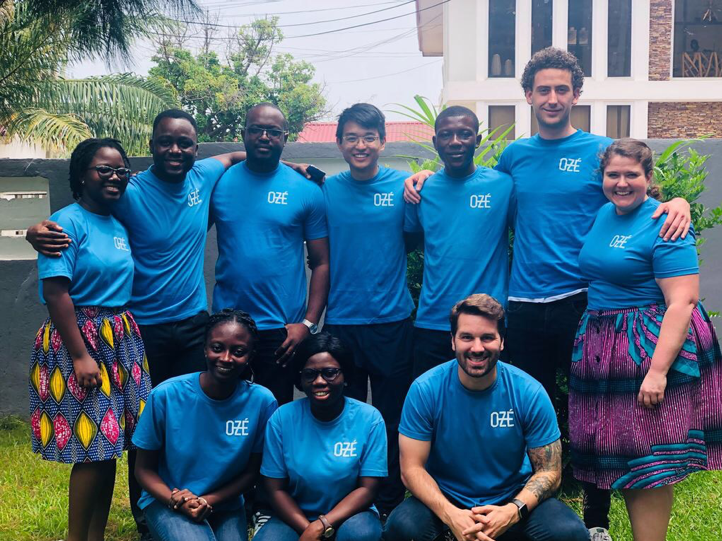 Everyone on the OZÉ team has a unqiue name and story behind it.
Five weeks in, I've been getting better at remembering everyone's name: the people on my team at OZÉ, the students I'm guest lecturing at the University of Ghana, and the local street vendors from whom I shop and purchase snacks and lunch. For example, there's my co-worker Prince, a very unique but common name in Ghana; Mahfouz, who has roots in Mali and Togo; Kristen, who switches between her Ghanian and English name depending on who she is talking with; Janet, sometimes called Jane; Samuelle, a female but just as strong of a name as Samuel; and Rosalind and Rosa, sisters who share similar names who own adjacent shops. For me, I'm Kevin, and I explain to some that I'm Sam4 Zi3jung5 or Cén Zhìyǒng, depending on if you speak Cantonese or Mandarin.
Beyond their names, I'm learning what my co-workers like to eat, what the students like to do in their free time, and what specials the vendors offer depending on the day. I've learned one of my co-workers has been trying a no-carb diet, while another can't seem to stop eating more meals in a day. The mandame who offers packaged fresh fruit at the office knows I have a sweet spot for her mangoes. The mangoes have not been in season, thus more expensive, she tells me. The waitress at the nearby cafe remembers my order, and one afternoon when I bumped into her on the street, she asked where I was the day before when I was in another community conducting fieldwork. This all started with a simple, "εte sεn? Hi, my name is Kevin!"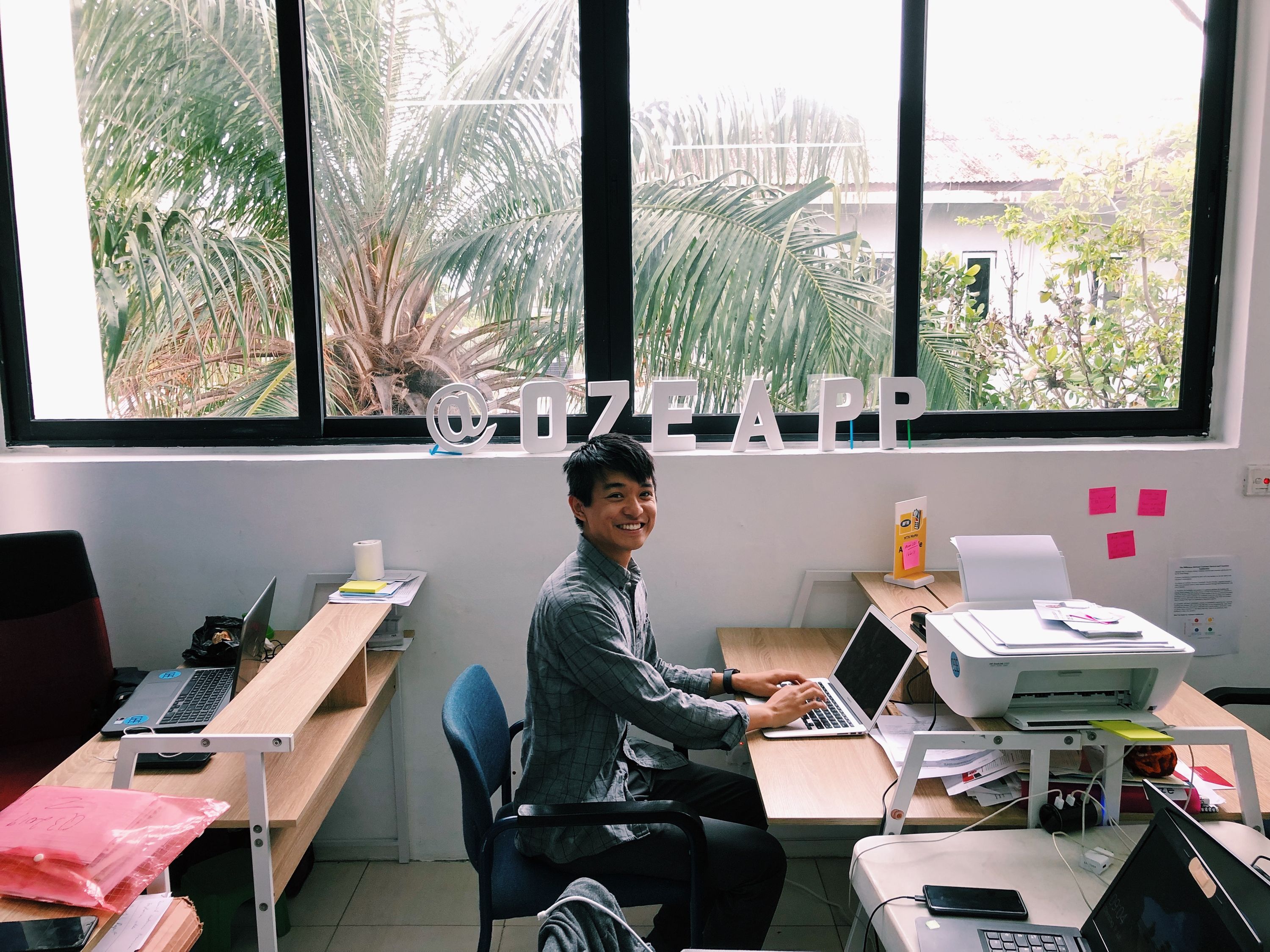 Working hard at the OZÉ office.
These seemingly insignificant personal connections have, in fact, been the most memorable part of my MISTI experience. The people I'm working with are not just Ghanaians. They each have a name, and beyond that, a depth of personality, tastes, and preferences. Likewise, for me, I'm no longer just that obroni or foreigner. I now have a name, a familiar face, a personality. I'm not just a tourist or visitor, or that kid with an Oriental appearance but with an American accent.
I'm starting to become an acquaintance, a friend, an active resident. If I'm walking down the street, my tailor will glance up from his sewing and say hello, or a street food vendor will shout a friendly greeting. I'm not only just Kevin. To the tailor, I'm the Kevin who prefers plain fabrics and simple cuts and is excited to try out wearing kaftans, a local dress. To the street vendor, I'm the Kevin who likes to munch on the sweet, juicy local mangoes and drink lattes if it's before 3 pm or else I can't sleep at night because of the caffeine.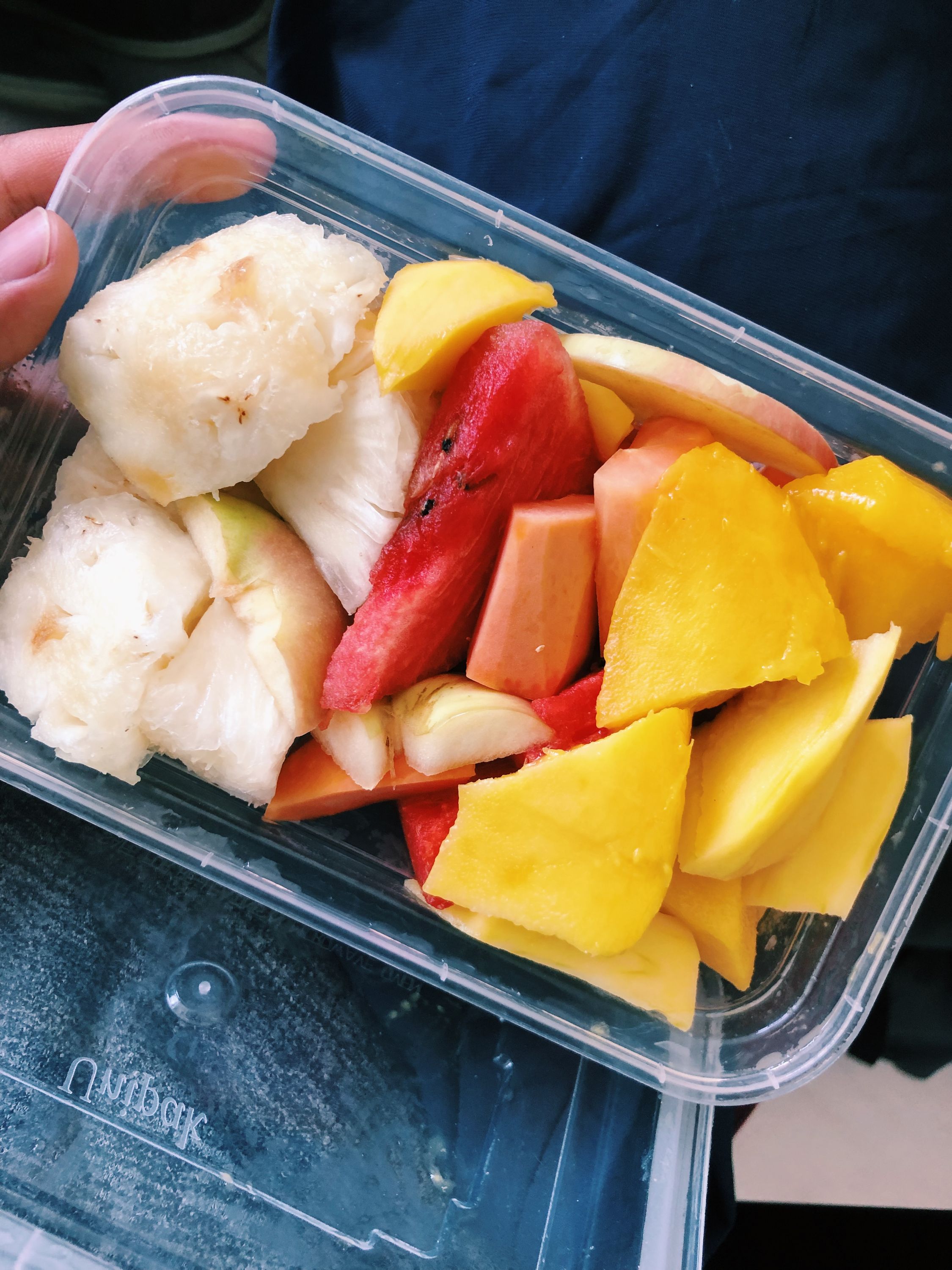 My favorite box of fruits from a street vendor who knows my soft spot for the local mangoes.
In this short trip, I've realized that finding community is not just about finding people just like you, who share the same color of skin, hold the same passports, or speak in the same language. It's been about going the extra mile to connect with each other on a personal level, even if it starts out as a simple exchange in the local language, introducing yourself, and remembering names. Once we're able to humanize each other on a name-to-name basis, we can start to relate to one another and find common ground that defies geographic or cultural boundaries. Conversations flow from there.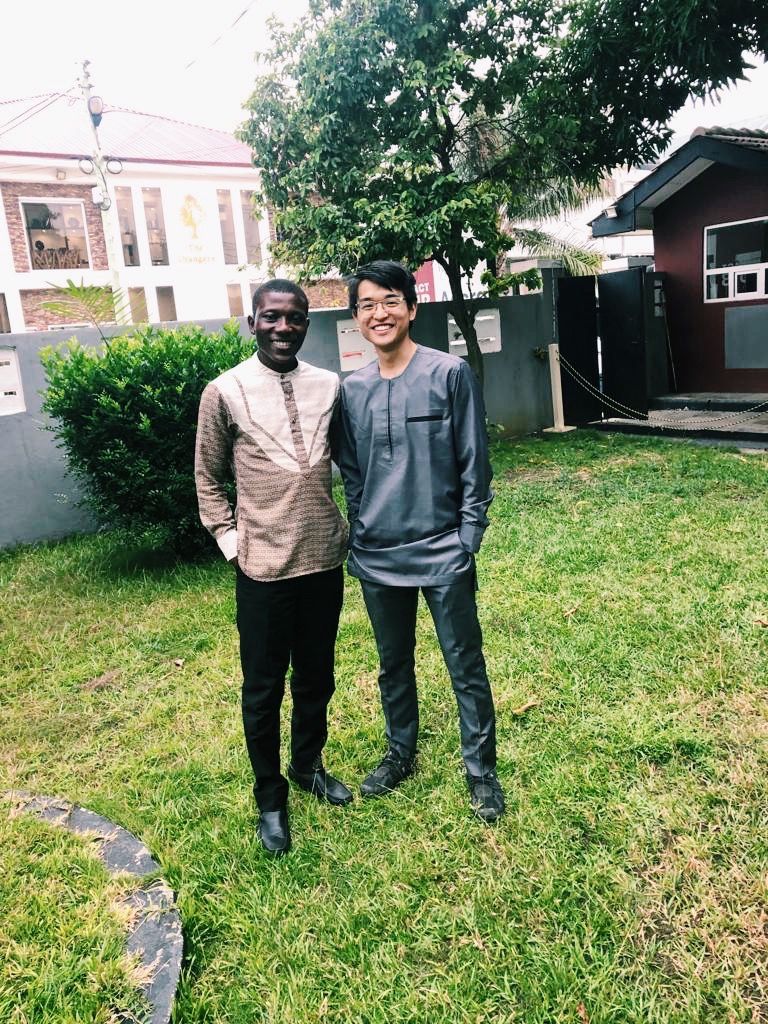 A coworker and I wearing our own bespoke kaftans, a local dress, fashioned by local tailors.
Yes, I'm still an Asian American, born and raised in a completely different part of the world, with different traditions, customs, and foods. But thousands of miles away, I've met dozens of hospitable locals who have welcomed me to their community and helped me forge a sense of belonging, one name and story at a time. Here, I've found a place to call home.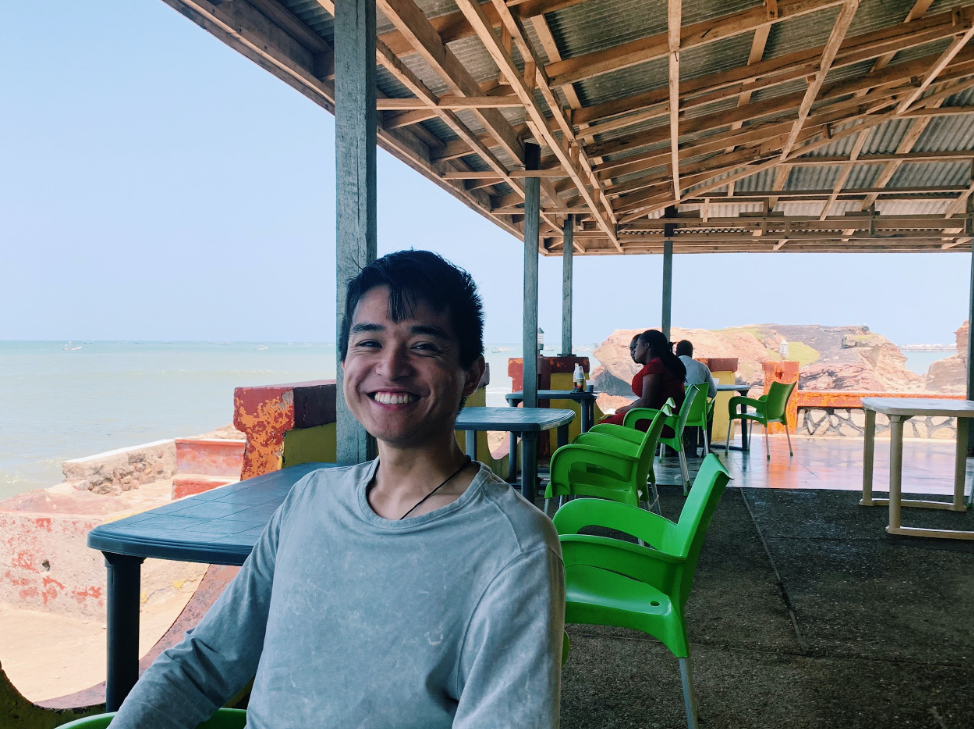 Relaxing next to the beach in Accra, Ghana, on my day off. This area reminds me of the sea side beach towns with ocean views back home in California.
Originally published on MISTI Blogs.
---
---
---